The following stages describe the Garden Design Process.
Client Brief & Site Survey
Whether you need a partial or whole garden redesign, Emily will visit the site to develop a brief with you and to conduct a full survey which includes photographing and measuring the garden in relation to the house and existing features remaining in your garden. Depending on the size and complexity of levels in your garden a full topographical survey by an external Surveyor may be required, this will be determined at the first consultation. We can help source and brief a Surveyor on your behalf. The site survey is then drawn up back in the studio and is used to design a new layout for your garden.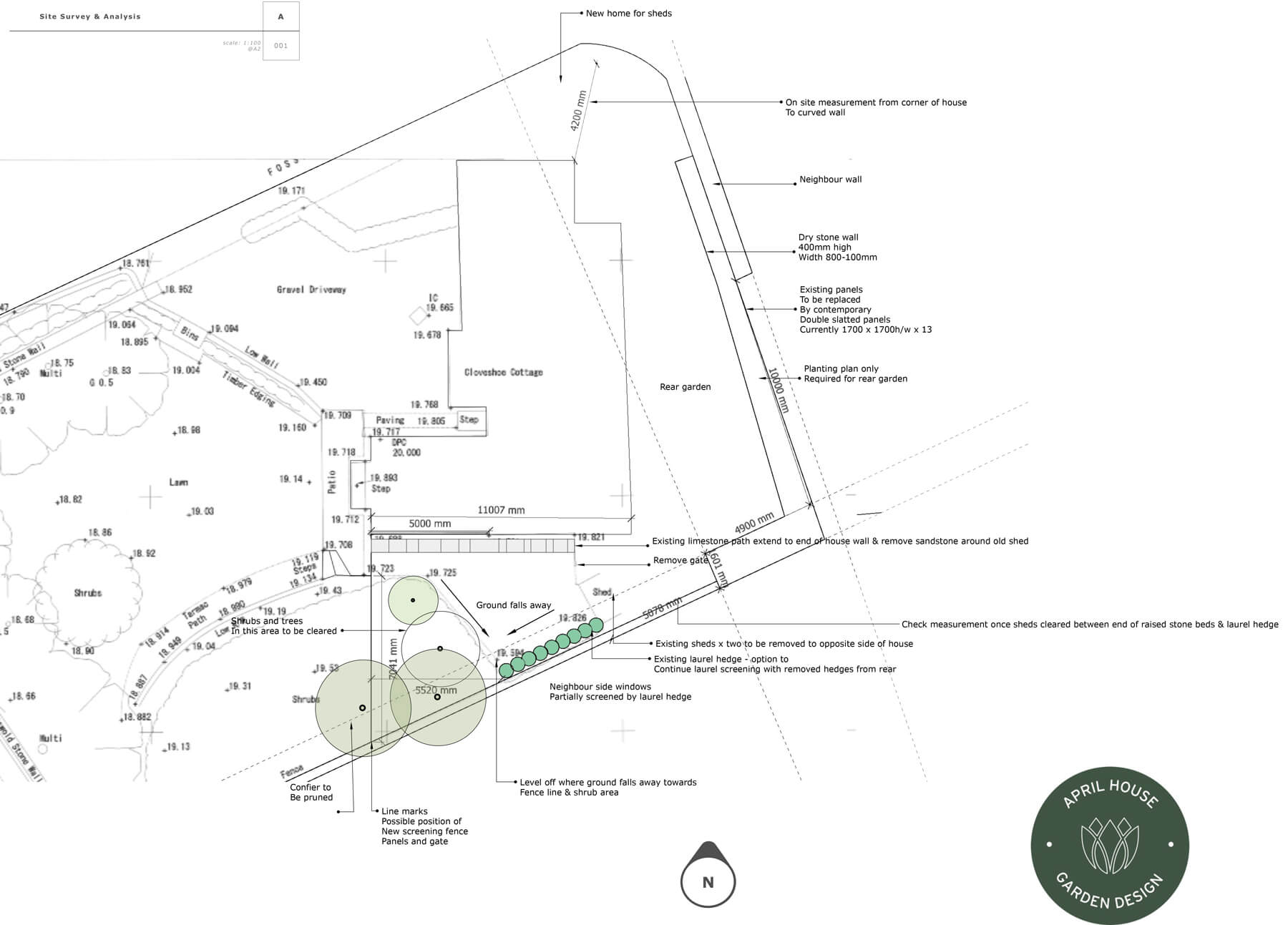 Example Site Survey
Concept Sketches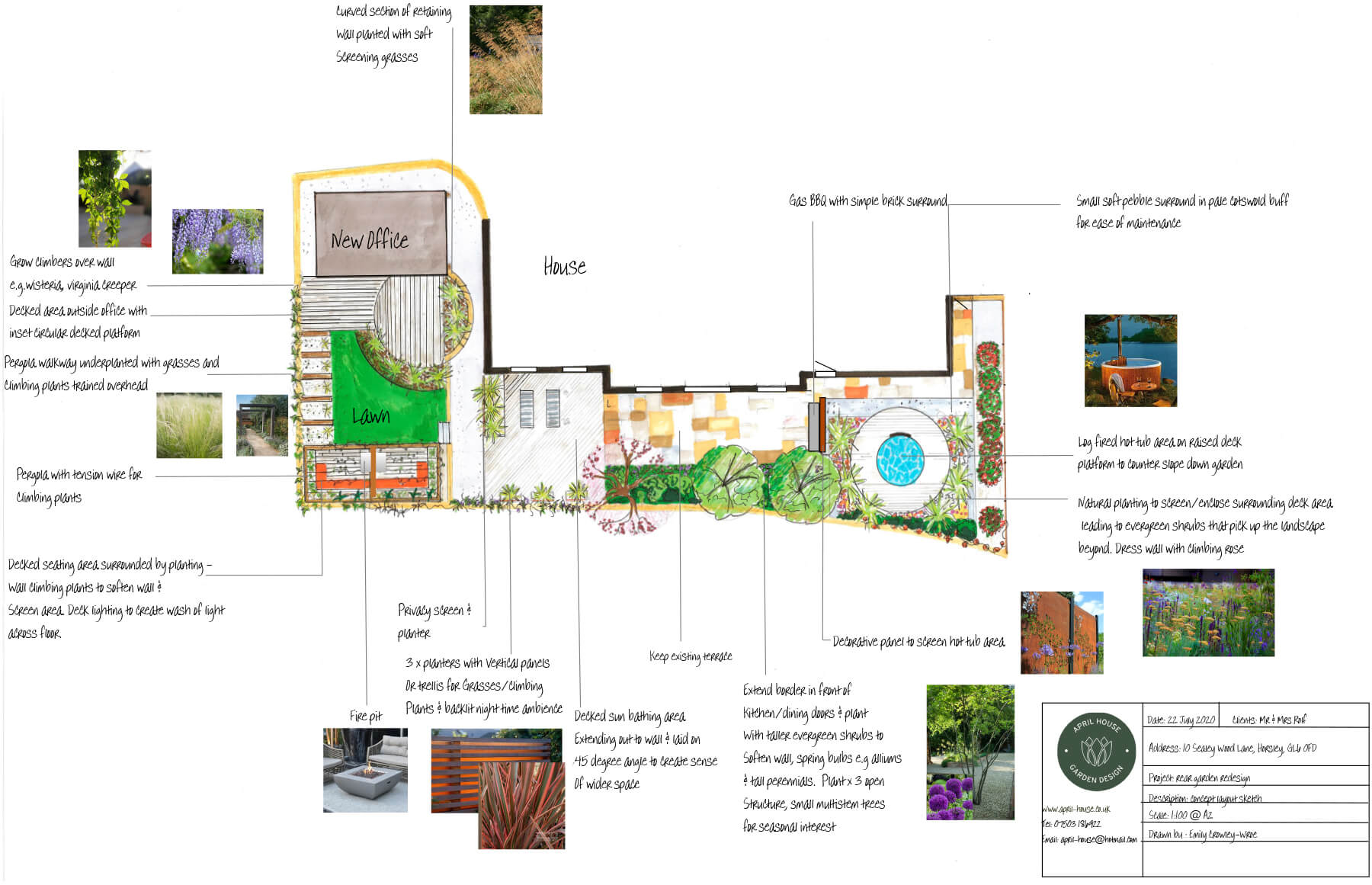 From the survey and your brief, Emily will provide a concept sketch showing a proposed layout plan of your new garden including features on your wish list such as seating areas, paving, pergolas, planting areas and water features. These will be a mix of hand drawn and computer rendered drawings depending on your timescale, preferences and budget.
Example Concept Sketch
Moodboards
Electronic or hard copy moodboards are created at the concept stage to focus in on the look and feel of your garden and specific elements within the garden such as water features, paths and plant colour, shape and texture.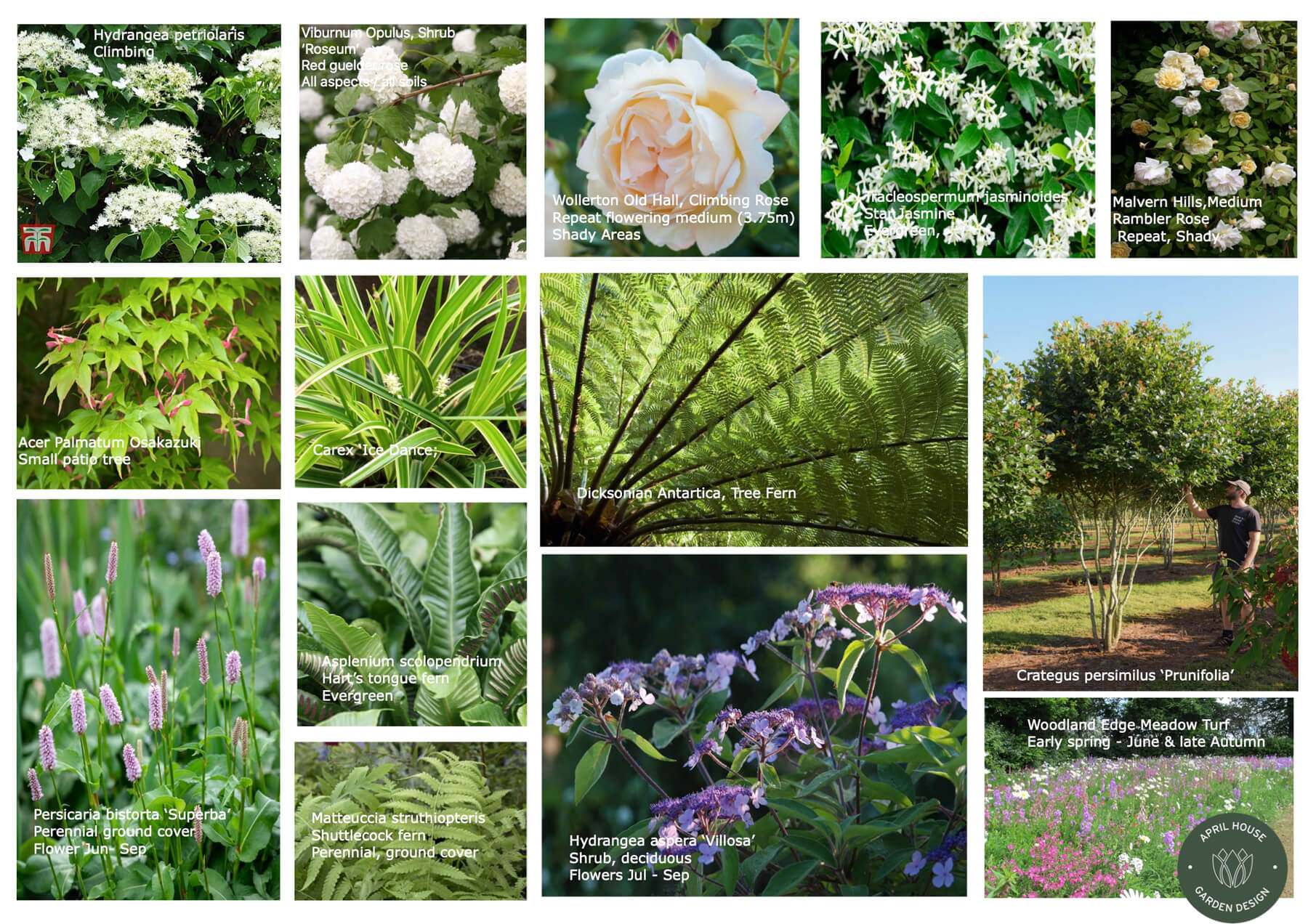 Example Moodboard
Master Layout Plan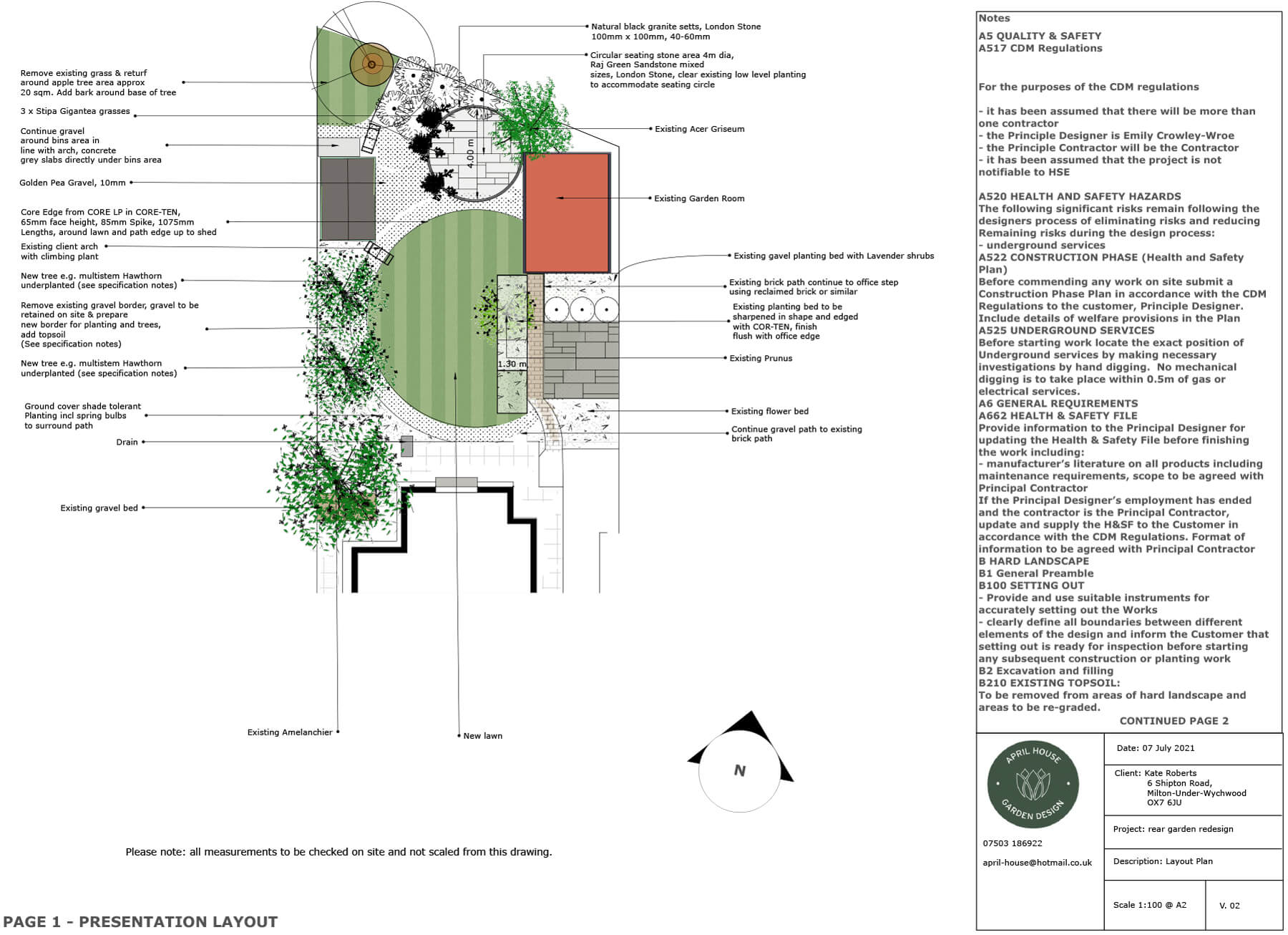 The Master Layout Plan is the final agreed plan that your landscaper will work from to build the garden. It is drawn to scale using measurements taken from the survey and details where the new elements in the garden will sit as well as specifying the materials to be used.
Example Master Layout Plan
Setting Out, Specification, Construction & Lighting Plans
These drawings will also be discussed and quoted for as we progress through the Master Layout Plan phase. They are drawings required by contractors to carry out the works. Setting out plans, for example, could include separate drawings detailing what and where new levels are to be set. A separate specification document may be required where the project is large and/or complex, it sets out standards and requirements for every element of the build from laying turf and soil preparation to building terraces and constructing walls. Construction drawings are required for structures such as pergolas and retaining walls or steps. Lighting plans are important to establish early on in the design process and will be considered and factored in at the client brief stage.
Planting plans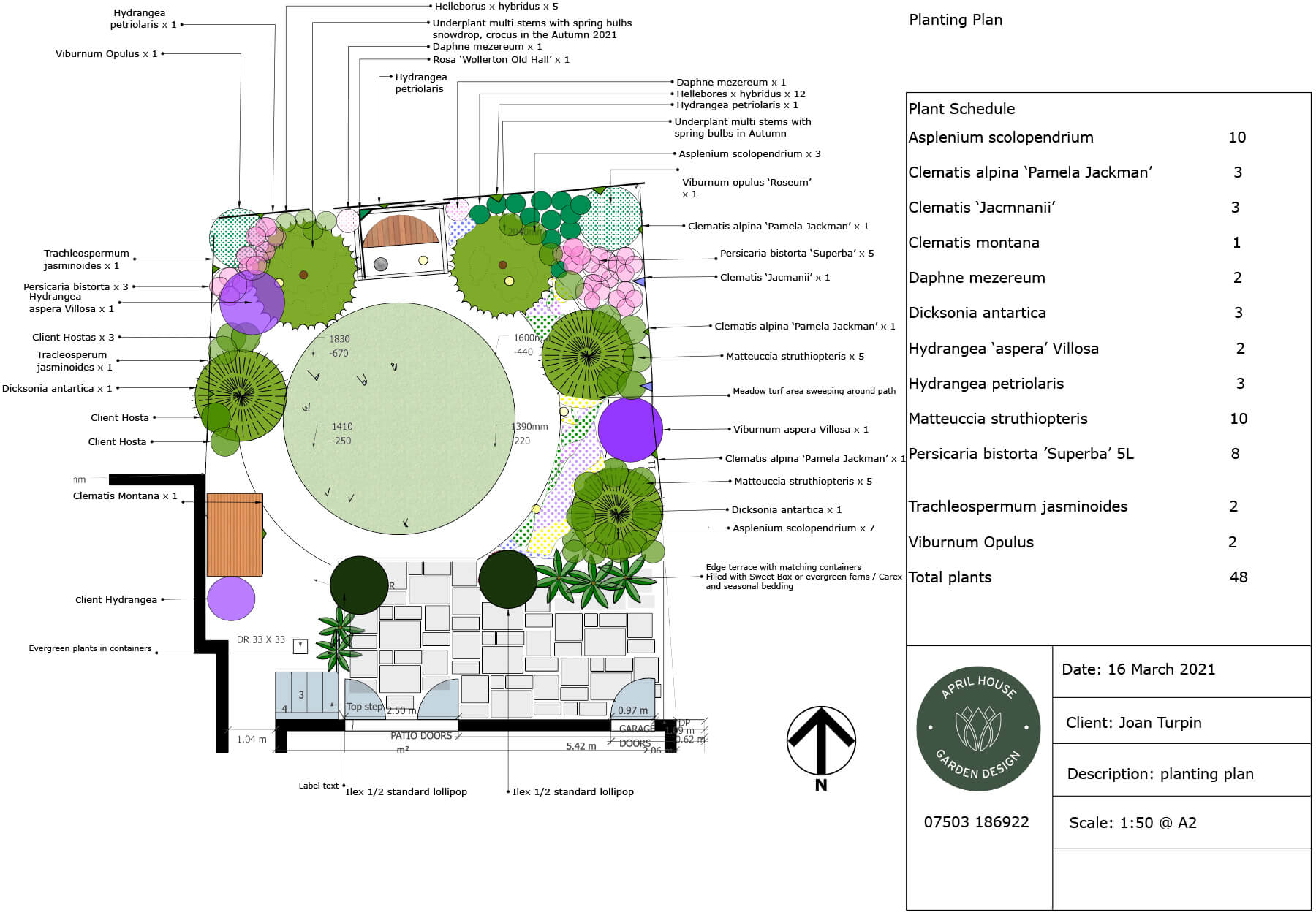 Planting plans are thoroughly researched plans of the plants specific to your garden taking into account soil type (tests are usually carried out at the survey stage) and aspect as well as the style of the garden and your personal tastes.
They are a visual map detailing the position of plants, plant species and quantity of plants required to fill the space and are used to accurately layout plants at the planting stage.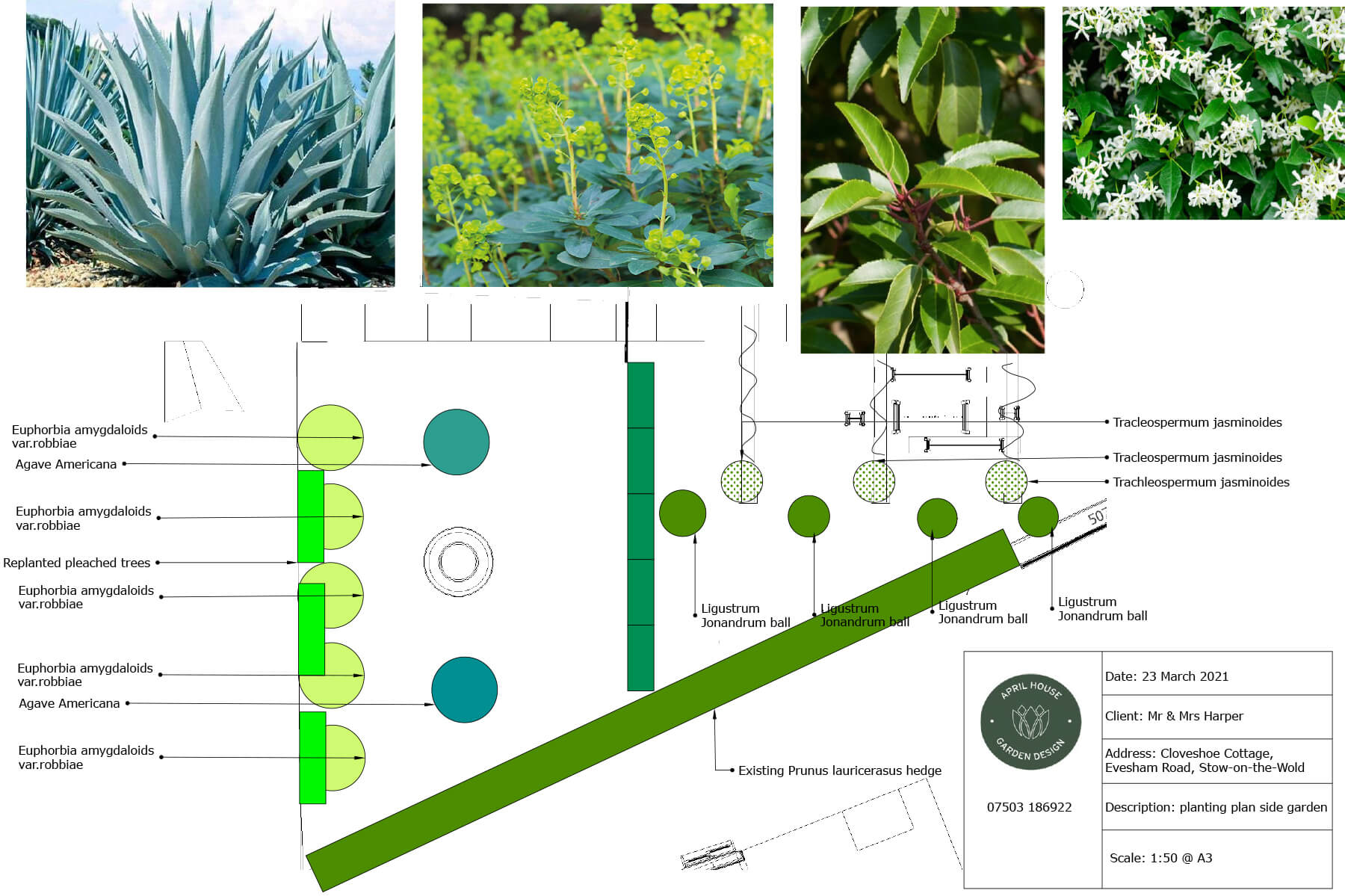 Example Planting Plan 1
Example Planting Plan 2
Garden Construction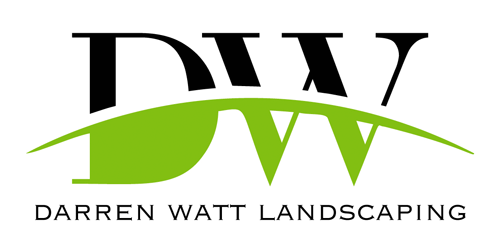 Darren Watt Landscaping is a local family run business with over 15 years experience in soft and hard landscaping services. Emily knows the care and quality that Darren and his team put into building her designs and works with all parties to deliver your dream garden.
Sourcing plants
Emily can provide all plants required for your garden plans at competitive prices using a wide range of quality specialist suppliers.
Laying Out & Planting
A laying out service can be provided which includes taking delivery of the plants and placing them in the correct place ready for planting by your or your gardener. Emily can also provide a planting service for you.
Fees
You can expect to budget approx. 10-12% of your overall garden costs for Garden Design. Layout plans & planting plans range from £800 - £2500 each depending on the size of the garden and the scope of the project. In addition, 3D visuals, concept sketches, construction drawing, surveys, site visits and sourcing are priced individually for each project and presented as a written quotation.